19 Incredible Housewarming Gifts They Will Cherish Forever
admin
Maybe your son just signed the lease on his first apartment. Perhaps your newlywed friends are getting ready to close on their brand new house. Whatever the situation, your mission is clear: You need the perfect housewarming gift. But within that seemingly-simple mission is hidden a maze of complexities, questions, and doubts. Do you go the functional route and give your friends a new toaster? Do you err on the side of sentimentality? Style? Comfort? Baby showers and wedding presents are a cinch because the recipient typically tells you exactly what they want. With housewarming gifts, though, you're on your own.
Before you chew your fingernails to the quick and frazzle your hair trying to come up with the perfect present, take a look at our list of 19 incredible housewarming gifts ranging from the practical to the romantic. We're absolutely certain that you can find a gift that they'll cherish forever.
19 – Couple's Names & Date Custom Cutting Board
This is a wonderful housewarming gift for the newlywed couple in your life – particularly if they know their way around the kitchen. Every halfway-decent cook needs a solid cutting board, so why not give them this Couple's Names & Date Custom Cutting Board? They say that the joys of life come from the little moments, and a present like this can turn even a seemingly-insignificant moment like walking through the kitchen into an occasion for wistful reflection. They'll remember how lucky they are to be together in their new home, and they'll remember how thoughtful you were to give them this special gift!
18 – Our First Home Christmas Ornament
We have a tradition in our family where we buy one or two new Christmas ornaments every year to commemorate the special happenings of the last twelve months. The great thing about this tradition is that it makes decorating the tree an absolute blast as we remember all of those occasions that make life worth living. Trips we took, little things we got interested in, baby arrivals, and so on. Start your friends or loved ones on this tradition with this lovely Our First Home Christmas Ornament that can be personalized with a photo of their brand new house!
17 – There's No Place Like Home Puzzle
It was the phrase powerful enough to bring a girl all the way back from the far side of the rainbow, and it's really no wonder that it could. Has there ever been a sentence in the English language with this much raw truth? Vacations, visiting friends, and even long hours at a satisfying job – these are all lovely parts of a great American life. But at the end of the day, all you really want is to be back in your familiar, comforting environment and your oh-so-perfect bed. This beautiful There's No Place Like Home Puzzle is a terrific housewarming gift that will remind your loved ones of this universal truth.
16 – Bride & Groom Laurel Whiskey Glass
Oh, you want class? Why didn't you say so? For a housewarming gift with stylish, sexy appeal for the elegant new homeowners in your life, look no further than this high-quality Bride & Groom Names in Laurel Whiskey Glass. In addition to being sleek and smooth, this glass comes with the power of personalization. Etch the initials of the newlyweds with custom engraving, all captured inside a beautiful laurel illustration. If your loved ones like to occasionally have a glass of fine scotch at the end of a hard day, you can pair this classy gift with a bottle of the good stuff!
15 – Welcome to Our Nest Photo Coasters
Er, you weren't about to set that whiskey glass down on our handsome wooden end table, were you? Okay, now you may have already dismissed coasters as a housewarming gift. Kind of boring, right? Well, think again. These Welcome to Our Nest Photo Coasters bring the personal to the mundane. Far from simply keeping water rings off the furniture, these special coasters act as a constant, cozy reminder of love and companionship. Available in both circle and square varieties, so why not mix 'em up with a set of both?
14 – Home is Where Our Story Begins Pillow Case
Our modern, ultra-busy lifestyles often have us out, about, and at the office for most of our days. Whether we're working long hours at the job or shuttling our kids from school to soccer practice, this constant rush of activity can obscure the central reason at the heart of it all: Love and family. This sweet, stylish Home Is Where Our Story Begins Pillow Case will remind the new homeowners in your life what it's really all about. Perfect for the bed or the sofa, these pillow cases can be customized with dozens of colors and personalized with names and dates. Thoughtful, romantic, and attractive!
13 – Our Roots Wood Sign
Ooh, now this is a special housewarming gift indeed. The intricate detailing on this Our Roots Wooden Sign puts the home in homey. Customizable in several different colors, you can include the last name of your loved ones so that it's spelled out and enveloped by a gorgeous tree symbolizing their family. This lovely accent piece would work in the kitchen, the foyer, the bedroom, or even on the outside of the house. It's not until you put up decorations like this that you really turn a blank house into a comfy home. Help them get started with a sign that says it all.
12 – Personalized Infinity Heart Recipe Box
Do the new homeowners in your life thrive on experimenting in the kitchen? Well, then this personalized Infinity Heart recipe box is a must! Trust us, we have a drawer filled with recipes printed out from the internet and…it's a mess. It's just regrettable. Don't let your loved ones wind up in such a situation. This Personalized Infinity Heart Recipe Box would make a fine housewarming gift even if it didn't come with that special touch of personalization. With their names included and that awesome infinity heart? It's a no-brainer.
11 – Home Is Where Our Story Begins Cutting Board
Hey, talk about synchronicity. Whether your homeowning friends are so adept with food that they could put the Iron Chef to shame or they can barely slice cold chicken, this personalized Home Is Where Our Story Begins Cutting Board will make the perfect addition to their kitchen. It doesn't matter if they're slicing and dicing their way through life like Emeril or laboriously chopping up veggies for the InstaPot, this cutting board will occupy an important – and special – place on the countertop.
10 –  Welcome to Our Nest Slate Sign
This gift is adorable taken to the next level, folks. C'mon. Two lovebirds sitting in a swing, a heart swimming in the space between them? If you could bottle this and sell it as pure emotion, it would be banned by the FDA for causing diabetes in 9 out of 10 consumers. No, but really, if the new homeowners in your life have tastes that run to the romantic, it's hard to imagine a better housewarming gift. This Welcome to Our Nest Slate Sign is sure to bring an "aww" from everyone who enters the house.
9 – Welcome to Our Nest Slate Coasters
A little of this, a little of that, and baby, you've got a theme going! Here's an idea: Pair that adorable slate sign with these matching Welcome to Our Nest Slate Coasters, and you'll get your loved ones started on a lovely, cozy theme that they can use to build their entire decoration scheme around. Granted, you don't want to presume to be their de facto interior designer, but hey, you can nudge them in the right direction, can you not? Even if they leave it at the sign and the coasters alone, these two gifts go together like…well, hopefully like the couple themselves! Those two lovebirds are so cute, we can hardly stand it.
8 – Custom Wood Beer Bottle Opener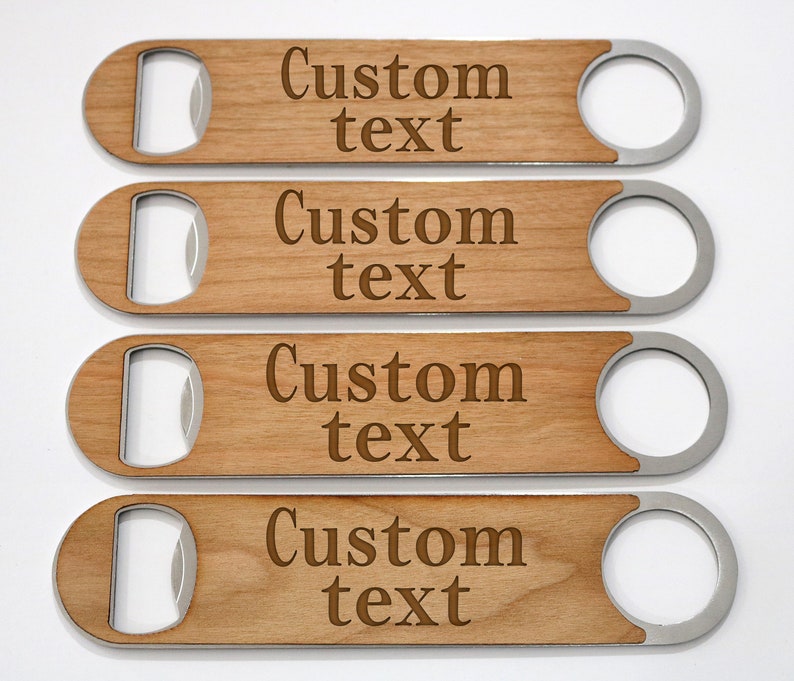 Is there anything worse than grabbing a six-pack from the grocery store, getting home, and then realizing that they aren't screw-tops? Now what. You're forced to resort to that dangerous little move where you knock the cap against the counter, inevitably shaking the beer, spilling it onto the floor, and probably hurting your hand in the process. And that's if you don't accidentally break the bottle wide open! Okay, maybe we're just bad at it. Nonetheless, all these problems can be solved with this handsome Custom Wood Beer Bottle Opener, to which you can add any custom text you like. The perfect housewarming gift for friends and loved ones who enjoy the suds every now and again.
7 – Name Inside Monogram Beer Mug
Uh-oh, you caught us theme-ing again. But let's face it, these two housewarming gifts are perfect together! Once they've opened their beer with that nifty little wooden opener, what are they going to do – drink it straight out of the bottle like a commoner? Let's put a little class in our game, shall we. This attractive Name Inside Monogram Beer Mug doesn't just come with a monogrammed initial but also the recipient's name in scrolling font. This is a great gift for a brand new bachelor pad or a man cave – or really, any home at all!
6 – Family Tree Bamboo Cutting Board
Now this is just cool. For the culinary family in your life, this Family Tree Bamboo Cutting Board is an eco-friendly addition to the kitchen. Styled with a family tree design to which you can add both the last name of the family and all the members of the tribe, this cutting board doubles as a conversation piece. Speaking of conversation, did you know that bamboo isn't actually a tree in the strict sense of the word? It's actually one of the largest, toughest species of grass. But don't think for a moment that it won't be strong enough to hold up as a cutting board; the Japanese have been using bamboo to make everything from furniture to doors to floors for centuries!
5 – Family Name Whiskey Glass in Script Font
Let's kick off the top five housewarming gifts with some style. Made with high quality glass to ensure long-lasting durability, this Family Name Whiskey Glass can be customized with the last name of your recipients in flowing script font. Underneath, you can add a date to the "Established" line, which makes this the perfect way to remind them of that special time when they bought their first home together. A whiskey glass like this is a must for the discerning drinker; its wide, thick base makes it the perfect tumbler for cocktails that include ingredients that need to be muddled before mixing. Of course, it is first and foremost a lowball glass for a sterling glass of whiskey, whether you serve it neat or on the rocks. If your loved ones enjoy relaxing with a fine glass of scotch in the evenings, don't hesitate to bestow this classy housewarming gift on them.
4 – Home Is Where the Heart Is Pillow Case
Whether you throw them on the bed or the couch, decorative pillows do a lot of heavy lifting for their soft, small size. Like a fresh coat of paint on an old, dilapidated shack, the right kind of pillow case can totally transform a living space. This Home Is Where The Heart Is Pillow Case comes in twelve distinct colors that can fit any current decor, matching perfectly or contrasting stylishly with the colors already in the home. Of course, if you're giving this as a housewarming gift, chances are good that the recipients haven't even settled into a color scheme yet. So really…you can't go wrong! And no matter which color pillow case you choose, the sentiment itself will go beautifully with any design at all.
3 – Home Sweet Home Family Name Puzzle
There is much to be said of our increasingly-digital, social-media-obsessed culture, and not all of it is positive. Sites like Facebook and Twitter help us stay connected to far-away friends and family, share our opinions with people we'll never meet, and kill time when there's absolutely nothing else to do. And let's face it, we live in an age where information and entertainment are more ubiquitous than ever. But everything comes with a tradeoff, and that includes technology. Have we lost touch with the simple pleasures of turning off our devices? Of slowing down? Of spending time with our loved ones when they're right in front of us? Even something as mundane as sitting around a table and putting a puzzle together can help us connect in ways that Silicon Valley never will. That's why we love this Home Sweet Home Family Puzzle as a housewarming gift. Not only is it a lovely piece for a new home, it will remind your loved ones to take a few moments each day to just…be. That's a more precious gift than you may realize.
2 – Home Sweet Home Compass Bamboo Cutting Board
Home sweet home. It's a phrase with so much power and resonance that it's been used by songwriters from John Howard Payne in 1822 to 80's rockers Motley Crue. Any phrase that can span 150 years has to have at least a smidgen of truth to it, we'd say! And since it also flows beautifully with a housewarming theme, why not lay this Home Sweet Home Bamboo Cutting Board on the new homeowners in your life? It comes complete with an intricate compass illustration that will remind your loved ones that, no matter where they are in life, they always know the way back home. This special cutting board also comes with the innumerable benefits of bamboo: an ecologically superior option to timber that is also said to have anti-microbial properties. Your recipients will probably still want to wash the board after using it to cut raw chicken, though!
1 – Custom Canvas Prints
Last, but certainly not least, we come to one of our favorite housewarming gift options: These classic Custom Canvas Prints. We were just talking about digital technology, right? Well, another one of the good side/bad side elements of our phone-in-every-pocket culture is that while we have more photographs than we know what to do with, they've become ephemeral and trivial. Maybe we're just Luddites, but a picture on Facebook is never going to have the gravitas as a framed photo on the wall. And a framed photo, meanwhile, has nothing on a beautiful canvas print. This gorgeous gift allows you to take any high-resolution photo and blow it up, making for a wonderful wall decoration that will enliven any new home. Whether you use their wedding pictures, a photo of their family, or an image of their new house, this is a gift that's certain to be loved for years.