14 Exceptional Birthday Gifts
admin
14 Exceptional Birthday Gifts That Will Surprise and Delight Them
Oh, the pressures that come with buying somebody you love a birthday gift! It may be relatively uncomplicated to buy a present for your old roommate or those nieces you see once or twice a year, but the closer you are to someone, the harder it gets. You'd think it would be the opposite, right? After all, you know this person pretty well. How hard could it be to pick something out that they will love? Well, it turns out to be fairly darn hard. And if taking a stroll through their public Amazon Wishlist doesn't give you any immediate inspiration, it may not be long before you're thinking seriously about buying them a gift card and calling it a day.
Let's do better this time.
While we can't promise that everyone that could possibly have a birthday coming up will love every single one of the gifts we're highlighting today, we are 100% confident that everyone will like something on the list. And if you're searching for that one outstanding birthday gift for that one exceptional person in your life, one is all you really need! Indeed, it could be said that adding insignificant, easily-forgettable presents on top of a single great one only serves to dilute the moment. Sure, everyone likes to open presents, but why clutter up their lives with more junk?
Instead, let's focus on that one special gift. That one present that they'll open and immediately fall in love with. That may seem like an insurmountable obstacle, but we promise that it isn't. The key? Finding a personalized gift that will be as sentimental as it is functional. That's what we're spotlighting in this list: Customizable birthday gifts that are as exceptional as the recipient. Let's get started! Be sure to add birthday yard signs to decorate.
14 – Happy Birthday Flags Sign
We're going to kick off this list in an unconventional way – by listing something that might better be described as a party decoration than an actual birthday gift. Nonetheless, we would have been remiss not to mention this Happy Birthday Flags Sign made from clear acrylic, only because it is the undisputed champion of party décor. Available with accents in several stunning colors, this sign comes to you customized with the name of the birthday boy/girl, the date of the party, and the location. If you want, you can play around with the location and date to sub in the person's actual birthdate and hometown. Either way you go about it, this makes for a special decoration that adds a punch of class and elegance to any birthday celebration! Those puffy letter balloons that are all the rage right now – they're fine if you want to go in a trendy direction. But if you want to outfit this party with something extraordinary and unique, this sign is the way to go.
13 – Circular Initials Notebook
Entrepreneurial author/guru Tim Ferriss once said of keeping a notebook: "I don't journal to 'be productive.' I don't do it to find great ideas or to put down prose I can later publish. The pages aren't intended for anyone but me. It's the most cost-effective therapy I've ever found." Keeping a diary. Journaling. Whatever you want to call it, it can open up a secret doorway into your subconscious mind and teach you things about yourself that you never knew. What better birthday gift could you possibly come up with? This lovely Circular Initials Notebook makes for a fine present, especially if you're faced with the daunting task of buying something for the person "who has it all." Whether this will be their first notebook or their 51st, they're sure to treasure this thoughtful, attractive, personalized gift. Perhaps their first entry will be about you and your terrific birthday present!
12 – Custom Text Tote Bag
There is no substitute for a great tote bag, and any proponent of them will tell you the same. They are lightweight, versatile, stylish, trendy, and friendly on the environment. In a day and age where you have to keep an ear to the ground to make sure your accessories aren't falling out of fashion, the tote is timeless. And with this Custom Text Tote, you can give your loved one a birthday gift they will use endlessly. Customizable to the max, this tote lets you write…pretty much whatever you want on the face of the bag. We could list some ideas, but that would just take the personal out of personalization, now wouldn't it? Seriously, though, if you want to give a gift that won't just wind up in the back of a closet somewhere, this is the one you've been waiting for.
11 – Script Name Knife
Superstition has it that if you give a knife to a friend, they should pay you a coin in return so as to avoid "cutting" the bonds of your friendship. Therefore, expect money back when you lay this Script Name Knife on your friend for their birthday! And if they don't pay you, warn them that they are tempting fate. Okay, okay, you probably don't want to get into all that at a birthday party – conversations about offending the dark spirits are best left to Thanksgiving, as we all know – but that doesn't detract from the beauty and usefulness of this terrific knife. With the recipient's name etched into the handle, this gift is great for the person who never goes anywhere without a knife and even better for the person who doesn't yet have one.
10 – Custom Canvas Prints
Now, this is a special one. Custom Canvas Prints can make beautiful, meaningful birthday gifts that the recipient can't help but fall in love with. It would have been challenging, once upon a time, to do this one without giving away the surprise – after all, you would need to ask your friend for the photo's negative, and that tends to raise alarm bells. But nowadays, when most people post all of their meaningful pictures on social media, all you have to do is grab a high-resolution copy of the picture and send it in for the final product. It's perfect! Canvas prints have many advantages over traditional framed photos, not the least of which is that they can be viewed from any angle and in any lighting and they won't suffer from the glare that comes with a glass covering. We would be shocked if you can find someone in your circle of friends/family who wouldn't treasure this present.
9 – Photo Montage Mouse Pad
Working long hours in front of a computer can be tedious, boring, and lonely. If you have a friend or loved one who spends much of their working day isolated from the people that make life worth living, why not give them this Photo Montage Mouse Pad! It can be personalized with any picture you want, an option that brings love and life to what might otherwise be a dreary day. Of course, you don't have to use a picture of friends and family; you can use anything that comes to mind. Maybe the recipient has a particularly prized puppy whose picture would brighten his day every time he looks at it. Maybe you have an original design that you'd like to use. The beauty of this gift is that it's all up to you, and you have the power to make something completely unique.
8 – Custom Text BBQ Set
If you have a grill master in your life, this Custom Text BBQ Set could wind up being the best birthday gift you could ever give. Even experienced grillers have a tendency to rely on whatever BBQ tools they can scrounge from the kitchen. You may even find a scorched, slightly-deformed plastic spatula lying around somewhere. That's just no way to get your grilling done. If you know someone who is grilling hamburgers and steaks with a mishmash menagerie of misfit tools, get them this handsome collection for their next birthday and help them take their outdoor cooking to the next level. A great BBQ set isn't just functional, it's attractive and professional-looking. And with this one's custom text option, you can make sure it is one-of-a-kind as well.
7 – Unicorns & Rainbows Pillow Case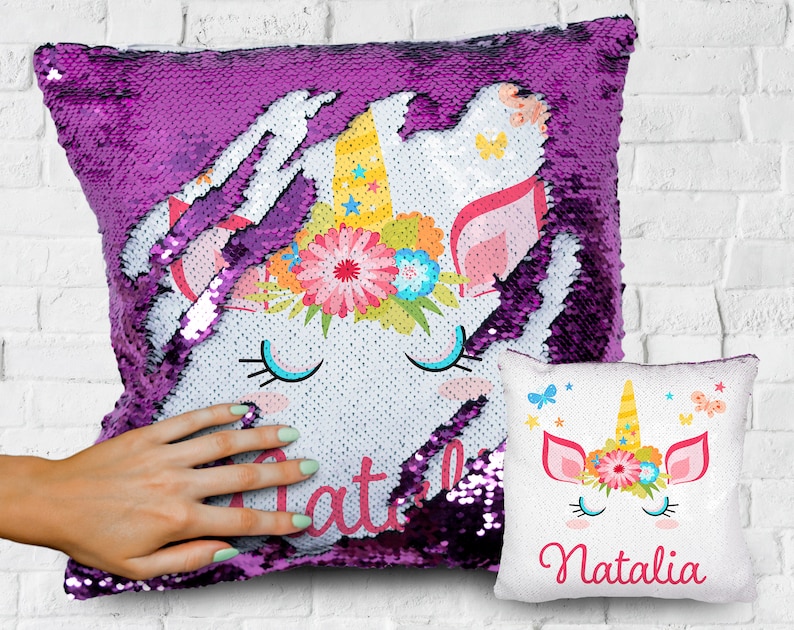 It's become a term of gentle sarcasm – life isn't always unicorns and rainbows, sweetheart. But at the heart of this generic "we're all suffering out here" message lies an undeniable truth: Wouldn't it be great if that's exactly what life was? And let's face it, we've all known someone for whom it seems to be true. True, they may have their struggles. Yes, there are surely difficulties in their life that aren't immediately obvious. But there's something about them – some internal barometer that never seems to register those high-pressure storms that others generate so frequently. They are always happy, it seems. Or if not precisely "happy," then at least they appear to be at peace. If you know someone like this – or someone who aspires to be like this – they may see this Unicorns & Rainbows Pillow Case as a wonderful external representation of their inner life. Or, you know, maybe they'll just think it's cute.
6 – Custom Text Beer Mug
Here's something curious we only just learned: Despite the fact that television networks are awash in beer commercials – particularly during sports – there is actually a U.S. law against showing people drinking beer during these spots. So you'll see frogs croaking, Clydesdales trotting, and folks having a grand ol' time out at the bar, but you won't actually see them drinking the very beverage they're trying to sell. Interesting! Well, thankfully, there's no such law against drinking beer in your own home, and a pale lager will go down better in this Simple Custom Text Beer Mug. If you know someone who's still stuck drinking their ales out of the bottle like a commoner, give them this lovely, durable glass and boost their beer game to the next level!
5 – Custom Birthday Shot Glass
This may have more in common with the first gift on our list than the rest in that it could be more of a party favor than an actual birthday present. On the other hand, even if you decide that the big party could use several of these Custom Birthday Shot Glasses to liven up the festivities, these gifts will get plenty of use long after the streamers and cake have been relegated to yesterday's news. High-quality and durable, these shot glasses are made to last. And hey, everyone will get a little memento to help them recall what a great time everyone had! Let's face it, depending on how many shots you put away at the party, you may need something to jog your memory…
4 – Custom Photo Wine Label
What a memorable gift this is! If you're thinking about giving your friend/loved one a bottle of wine for their birthday – or if you were going to bring some wine to the party – this is a terrific way to turn a common (if thoughtful) present into a wonderful, personalized statement of love. With this Custom Photo Wine Label, you can turn a bottle of pinot off the shelf into a one-of-a-kind gift that can't be replicated. Use any picture you want and print any custom message you can think of on the label. And while our focus today is on birthday gifts, this label is a terrific idea for occasions and celebrations of all kinds! Keep it in the back of your mind the next time you want to transform a simple gift of wine into a cherished memory for both you and the recipient.
3 – Happy Birthday Lighter
If you have someone in your life who smokes or simply likes to have a lighter on hand at all times, this Happy Birthday Lighter can make a thoughtful gift. Much classier than the cheap disposables you get at the nearest gas station, this handsome lighter is stylish, sharp, and refillable. Smoking isn't the symbol of "cool" that it was back in the day – probably a good thing – but the effortless poise that comes with snapping open one of these lighters will never go out of style. These lighters come etched with a Happy Birthday message, the recipient's name, and their initials. Of course, if you want it to say something other than Happy Birthday, that's up to you. Your message may be limited by space, but your imagination doesn't need to be. Create something unique, and you'll have a birthday present that won't soon be forgotten.
2 – Finally 21 Shot Glass
There are a few birthdays that are just a bit more significant than the rest. Sweet sixteen, the day you turn 18, your 40th…and the one we're going to get to in our final gift idea coming up next. But trumping perhaps all of them is the day you turn 21. If you have a friend that's getting ready to hit this milestone, celebrate it with these Finally 21 Shot Glasses. With a minimum order of six, these shot glasses are customizable with the recipient's name and the date of their birthday. Get a bunch of them, give them out at the party, and everyone will leave with a terrific souvenir of what will hopefully be an unforgettable night. And since your friend is now legal, he'll have a head start on a great drinkware collection. Pair these glasses with a nice bottle of your friend's favorite spirit, and give them a birthday they'll remember forever.
1 – My 1st Birthday Picture Frame
Most of us don't remember our first birthdays, granted, but does that make them any less special? If you have a son, daughter, niece, nephew, or (very) young friend getting ready to celebrate their first trip around the sun, this My 1st Birthday Picture Frame gives them – and more importantly, their parents – a wonderful way to commemorate this cherished day. This attractive frame comes in wood, silver, and black options, all of which are decorated with a party theme and customizable with the birthday kid's name. In an age where most of our photos are "out there" in cyberspace, this frame gives you a chance to bring pictures back into the real world where they just somehow…mean more. Maybe we're just Luddites, but there's nothing quite like a photo you can put on your desk or your wall and look at it whenever you want. And if you're a proud parent, that is a priceless gift.
Still searching for the perfect personalized birthday gift? Click here to browse all of our personalized birthday gifts!